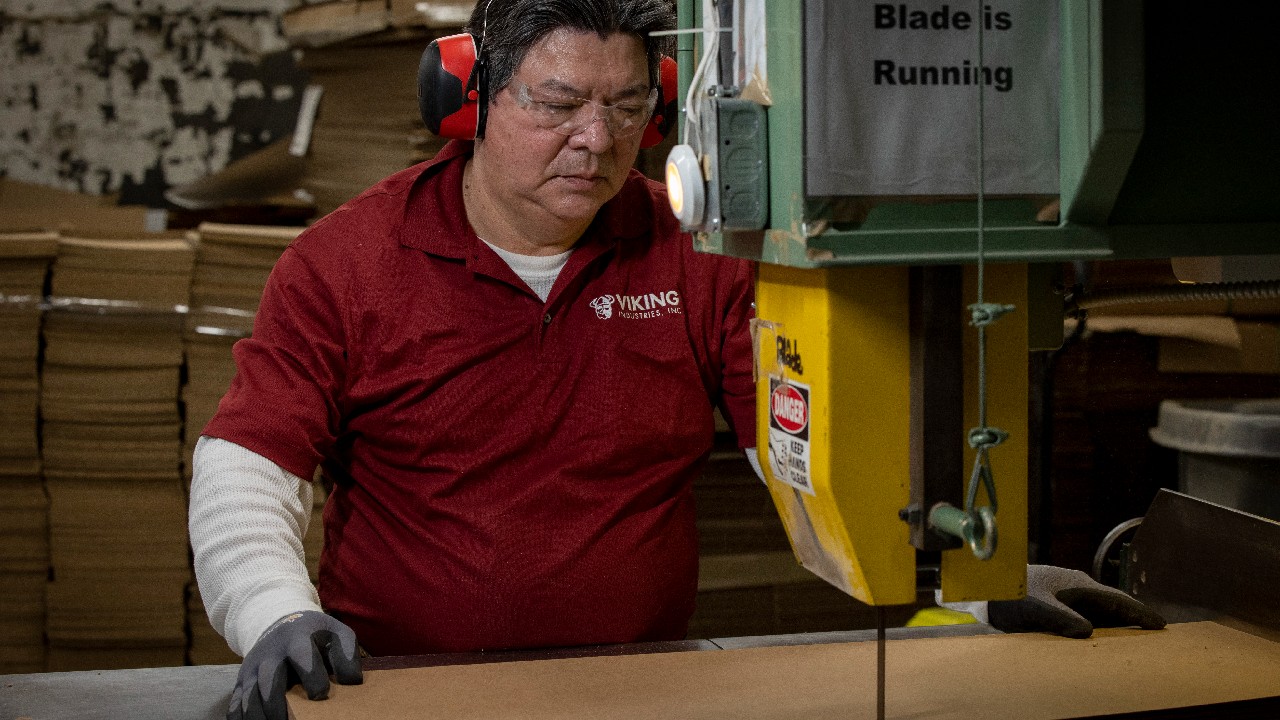 Time is Money! How Viking Saves You Time Through Packaging
In the fast-paced world of business, every minute counts. You understand the importance of efficiency, and so does Viking. We're not just your ordinary packaging solution provider – we're your partners in streamlining your operations and saving you valuable time. Viking Packaging can help you optimize your processes, enhance your packaging, and ultimately, make your operations more time-efficient.
Lock Bottom Boxes
We take a comprehensive approach to understanding your entire process before making any recommendations. One powerful suggestion we often provide is the adoption of lock-bottom boxes. These innovative cartons are designed to eliminate the time-consuming process of folding and taping the bottoms of boxes. By making this switch, you'll significantly reduce labor requirements and associated costs. With lock-bottom boxes, you can ensure a quicker and smoother packaging process, leaving you more time to focus on other crucial aspects of your business.
Partitions
We specialize in producing partitions that provide added protection and structure to your packaging. What sets Viking's partitions apart is that they come fully assembled and ready to be incorporated into your packaging process. These partitions not only expedite your packing process but also contribute to minimizing damages during transit. With Viking's partitions, you can pack faster, reduce the risk of damage, and ultimately enhance your overall productivity.
One-Stop-Shop
Viking Packaging isn't just a corrugated manufacturer; we're a comprehensive packaging supplier. Our commitment to providing the best packaging solutions extends beyond boxes and partitions. Viking trucks ensure the safe delivery of your packaging, produced right here in our state-of-the-art plant and quality-checked by our dedicated team. The raw materials for your packaging are sourced from our very own corrugator plant. By relying on us for the whole process, distributors not only save time but also avoid unnecessary markups from middlemen. With our diverse range of packaging solutions, you can simplify your procurement process and save valuable time and resources.
Detailed Quality Checkpoints
As the saying goes, "The devil is in the details." We understand the importance of meticulous attention to every aspect of your packaging. Our team is dedicated to assisting you at every step of your packaging journey. From dimensions to corrugated grades, flutes, text and graphics, die samples, and production schedules – we scrutinize every detail to ensure nothing is overlooked. Our commitment to quality is backed by a proven quality program that has consistently maintained a remarkable 99.80% or better quality rate for the past nine years. With Viking's detailed quality checks, you can rest assured that your packaging will be done right the first time.
Emergency Shipments
In the world of business, unforeseen challenges can arise at any time. We stand ready to be your lifeline in critical moments. We've often stepped in to fulfill last-minute orders due to mistakes or delays by other suppliers or to bridge the gap when their other suppliers fall short on deliveries. By swiftly turning around these orders, we prevent costly assembly line shutdowns that could potentially affect their operations. With Viking as your partner, you have a dependable ally to navigate through unexpected disruptions.
Time truly is money, and at Viking, we're dedicated to saving you both. We're committed to optimizing your processes and enhancing your efficiency through a broad range of solutions. Viking is more than just a packaging provider – we're your partners in making the most of your resources. Reach out to Viking today to see how we can benefit your bottom line!