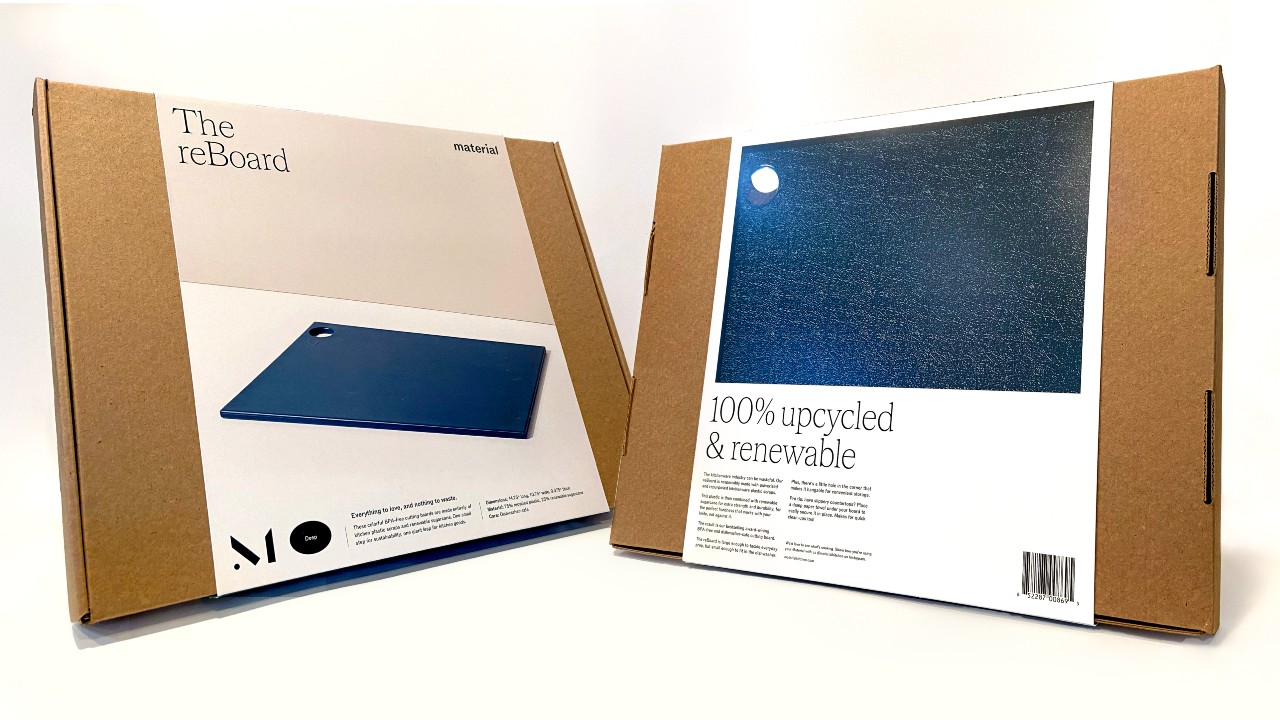 reBoard: Displaying the beauty of green kitchenware
Sustainability is important to today's consumers, with 90% of shoppers saying that they would pay more for items that are made from recycled materials. We pride ourselves on delivering sustainable packaging solutions for our customers. Our recent work with Material's reBoard product helped the company bring its eco-friendly (and trendy) line of cutting boards to even more shoppers at an upscale retailer.
THE PROBLEM
Material sells an innovative cutting board that is made of 75% recycled plastic and 25% renewable sugarcane. It has been praised by the likes of USA Today, Epicurious, Bon Appetit, and hundreds of happy customers. While Material sells its reBoard, and many other sustainable kitchenware items through its e-commerce site, the brand had the opportunity to bring the product to a major upscale retailer. However, while Material's packaging was perfect for e-commerce and customer unboxing experience as the box included product info printed on the inside, the packaging was not ideal for the retail shelf. In fact, the upscale retailer didn't like the packaging at all, raising a big question:
How could they highlight reBoard's unique features that make it miles above your standard plastic cutting board, while also reinforcing its mission of sustainability in a high-end retail setting?
THE Viking SOLUTION
To help showcase the product on the shelf, we worked with Material to develop a simple, effective, and minimalist packaging solution. Our belly band packaging sleeve uses fewer resources than a fully enclosed box, but also provides an opportunity for Material to tell an important story about its commitment to sustainability, while not hiding reBrands unique features.
Now, shoppers can see and feel the product in person at the high-end retailer while learning about Material and its company values.
This solution is just another way Swatek and the Viking family of companies provide much more than packaging supplies; we deliver solutions that consider all of your company's needs. From recyclable materials and reusable packaging options to smaller format packaging that compels shoppers to take another look, Viking knows the importance of sustainability and helps businesses stay earth and wallet-friendly.
LEARN MORE about all of the Viking family of companies' packaging solutions.